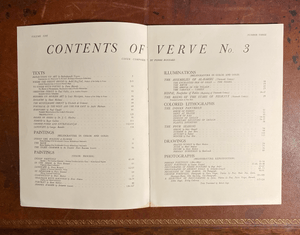 Regular price
VERVE An Artistic and Literary Quarterly Volume 1 No. 3 October - December 1938
---
VERVE An Artistic and Literary Quarterly, was first published in Paris in 1937. Launched by Tériade, a Greek ex-law student living in Paris, and art publisher Albert Skira, VERVE presented the work of painters, photographers, and writers in a cultural context and with a global point of view. For many of the artists featured on the cover, this was the first time their work had been shown to so wide an audience. Matisse, Bonnard, and Braque were part of an emerging modern art community that was largely unknown outside of Paris. 
Volume 1 No. 3 features the work of Pierre Bonnard on the cover. Inside this issue is the work of Marc Chagall, Joan Miro, Paul Klee and Henri Matisse amongst photographs and literary works that highlight Muslim, Indian, and Chinese culture. 
This copy is in near-fine condition, with only very minor wear to the tail of the spine.